Title: Constructing Domain Specific Modelling Languages for Model Driven Engineering.
When: 21/07/2016 11:00 am
Where: Room B
Abstract: Model-Driven Engineering (MDE) is a Software Engineering paradigm that promotes an active use of models and transformations throughout all phases of software development. Hence, models are used to specify, test, simulate and generate code for the final application. The rationale of MDE is that models have a higher level of abstraction than code, with less accidental details, which promises higher levels of quality and productivity. These models are frequently specified using Domain-Specific Modelling Languages (DSMLs) capturing the abstractions within a given domain in a concise and intuitive way.
In this talk we will first introduce the main concepts of MDE, and then we will discuss several approaches to build DSMLs focussing on tools developed by our research group (http://www.miso.es).
Biographies: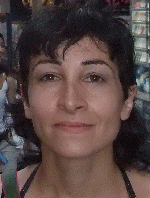 Esther Guerra is associate professor at the Computer Science Department of the Universidad Autónoma in Madrid, and an active
member of the Modelling and Software Engineering research group (http://www.miso.es) at this University. She has been a doctoral researcher at the Institute of Theoretical Computer Science (TU Berlin) and the University of Rome "Sapienza", as well as a post-doctoral researcher at the University of York (UK). She is interested in Model-Driven Engineering, primarily in model transformations, model transformation testing, meta-modelling and domain-specific modelling languages. Her e-mail address is Esther.Guerra@uam.es and her web-page is http://www.ii.uam.es/~eguerra.
Juan de Lara is an associate professor at the Computer Science Department of the Universidad Autónoma in Madrid, where he leads the Modelling and Software Engineering research group (http://www.miso.es). He holds a PhD degree in Computer Science, and his reasearch interest like in meta-modelling, multi-level modelling, domain-specific languages and model transformation. He has been a post-doctoral researcher at the MSDL lab (McGill University), the institute of theoretical computer science (TU Berlin), the department of computer science of the University of Rome "Sapienza" and the University of York (UK). His e-mail address is Juan.deLara@uam.es and his web-page is http://www.ii.uam.es/~jlara